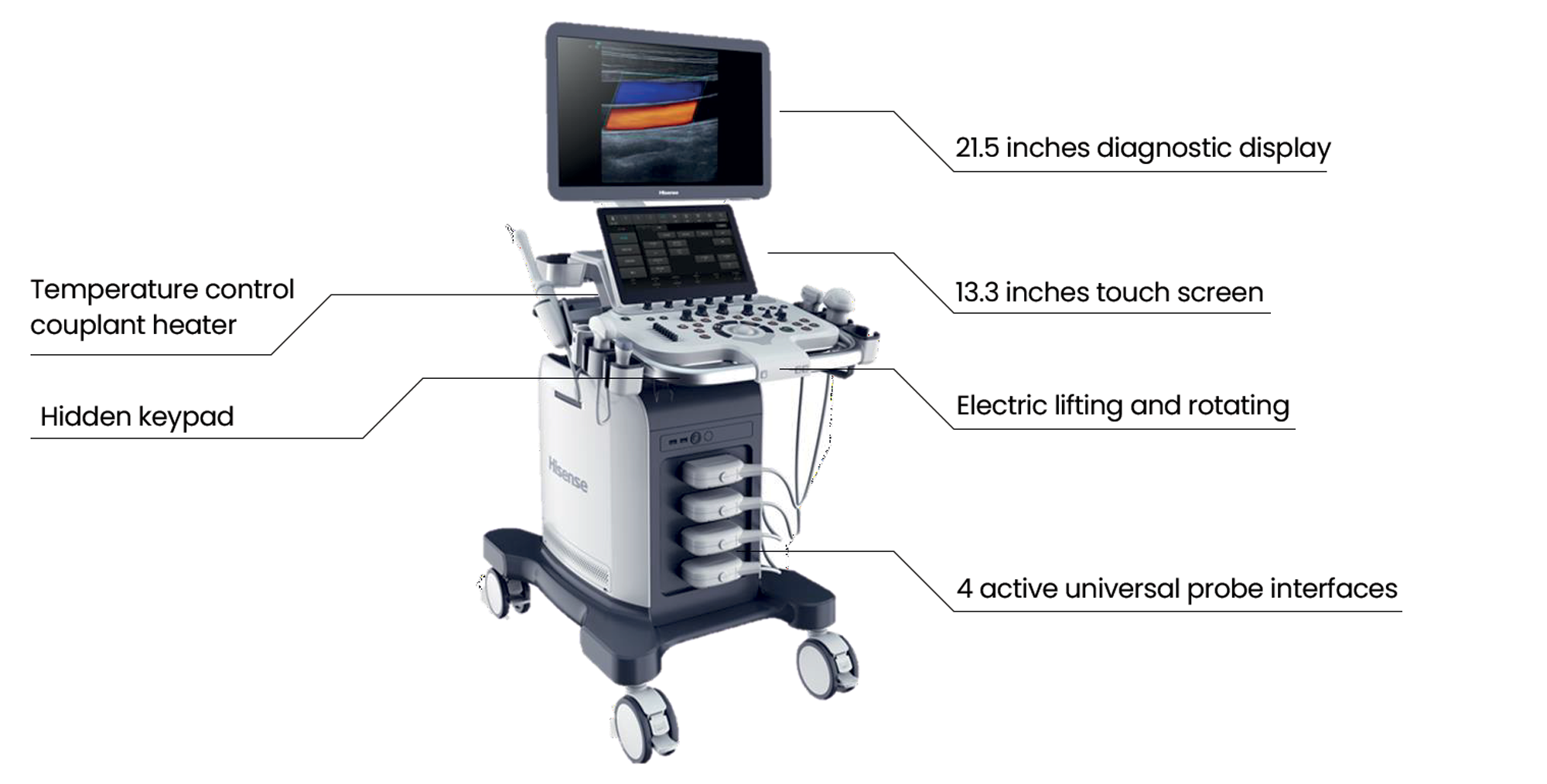 Our HD60 ultrasound solutions achieve higher standards of imaging algorithms, delivering a more accurate original sound based on a GPU parallel architecture. It processes vast levels of acoustic data simultaneously, while also providing users with a more precise and higher quality image.


IMPROVING MEDICAL DIAGNOSIS AND EFFICIENCY
Hisense medical monitors are sold to worldwide hospitals together with endoscope, DSA, ultrasound etc. through medical equipment manufacturers. Hisense medical monitors are now widely used in 1000+ domestic hospitals and hospitals in the US, Germany, UK, Netherlands, Israel etc.
HD60 products can achieve imaging algorithms of more accurate original sound based on GPU parallel architecture. 
It processes massive acoustic data in parallel, and at the same time, provides users with more precise and more uniform high-quality images by perfectly combining AI technology. 
Image processing technology
Trapezoid imaging, Double-frame imaging, Speckle noise suppression imaging, Spatial Composite Imaging, Puncture Enhancement

Obstetrics 4D
Light source rendering imaging, Niche imaging, Free Profile Imaging, Multi-slice function

Cardiovascular D mode
TDI tissue Doppler, 3D PW imaging, SCV Color Velocity Imaging


Point-by-point beam synthesis technology
Micron-level beam synthesis technology makes high-precision synthesis of time and space distribution of ultrasonic waves, improves the front-end imaging accuracy, and delivers clearer details of images

Sidelobe suppression technology for full channel domain emission
Sidelobe suppression technology for full channel domain emission minimizes the impact of ultrasonic inherent sidelobes, greatly improves the purity of front-end signals, and makes images with more realistic details.

HiPure Advanced Speckle Noise Suppression Technology
Multi-dimensional image enhancement and speckle suppression technology reconstructs every pixel detail of the image in a multi-dimensional space, and finally merges into an image with less noise, more complete details, and higher definition.

HiScom Space Composite Imaging Technology
The three-dimensional space-time full-angle smart image fusion technology perfectly captures the best image information in space-time and integrates it into one, presenting with confidence excellent images to users.

Automatic measurement
One-click measurement: one-click selection, automatic output of results Higher precision: high-end image segmentation technology Auxiliary judgment: judging the reliability of test results Intelligent switching: supporting single and bilateral automatic measurement

Meticulous and Humane Design
The unique man-machine design, electric lifting, rotating and adjustable control panel and all-round adjustable screen articulated arm will provide you with a comfortable and intimate man-machine working environment.
Speed
Meet the speed requirements of real-time imaging processing technology, 50% faster than the original operation speed.
Excellent Image quality
Greatly improve the spatial resolution and contrast resolution, the imaging is finer, and the frame rate is higher
AI technology
AI-Assisted diagnosis, measurement and face recognition
Cloud service + 5G remote
Cloud deployment, Cloud computing, Cloud storage and 5G remote consultation

Eye protection without flicker
Reducing visual fatigue from long-time screen viewing

Long-term brigntness stability
Equipped with a backlight sensor that can monitor and adjust the backlight in real-time and prevent long-term use of backlight aging and brightness reduction to ensure image quality during use

A wide variety of probes
Including abdomen, surface/vascular, maternity and heart. 17 types were released in the first edition, satisfying 95% of the usage scenarios of the ultrasound department
Why choose Hisense Medical devices